Choosing a Cosmetic Dentist
Denver and Lakewood, Colorado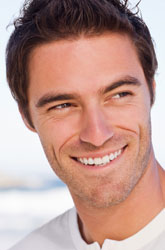 As cosmetic dentistry has grown and become better known in recent years, many general dentists have started to offer some cosmetic procedures on the side. They may offer porcelain veneers, for example, which is one of the post popular cosmetic procedures. They may offer tooth whitening, also very popular.
However, well-performed cosmetic dentistry requires more training than is offered by most dental schools. There is both art and science in the process of enhancing a person's dental beauty. The dentistry that our grandparents knew was general dentistry, which took the approach of "What problem are we fixing today?" It was not typically a preventive approach, and did not offer options for increasing the attractiveness of your smile. Instead it was problem-focused, after the fact.
Assemble a list of possible names
Ask friends, co-workers, neighbors and family and do internet searches.
Narrow it down
On each cosmetic dentist's website read about the dentist's training and background. Look at the Before and After gallery and read their patient reviews or testimonials. Check that the photos are of that dentist's patients, rather than general photos. If the site does not indicate that, make it one of your questions if you go for a consultation.
Schedule consultations
When you have a short list, call each one to schedule a consultation so you can meet the dentist and some of the staff, and look around the office.

If a cosmetic dentist offers no consultation, move on because you want to be able to meet the dentist before committing yourself to anything.
If the consultation will be only with an assistant rather than with the dentist, move on because that suggests the dentist is not very interested in new patients. Many times it will be with both the dentist and an assistant, which is fine.
Some dentists will charge for the consultation and some are complimentary. Either way, it will be well worth your visit.
While you are there, note how the office staff operates. Are they friendly with each other and enjoying themselves? Do things seem to run smoothly? Keep in mind you'll be returning for continued dental care, so choose an office which has a pleasant, calm atmosphere.

Ask Questions
While you are having each consultation, notice how willing the cosmetic dentist is to take time with you. Try to get a sense if he or she is listening to you and taking note of your concerns and goals. If the answers to your questions are not clear, ask more questions. Below are some suggested questions.

How long have you been doing cosmetic dentistry?
Do not settle for less than ten years of experience. If you have any specific procedure in mind, ask how often the dentist has performed it.

Could I talk to one of your previous patients about their experience here?
A dentist with a lot of happy patients probably has some who would be glad to talk to you.

Are your Before and After photos of your own patients?
Sometimes the website, photos on the wall or a Before and After book contain generic photos and not those of the dentist.

What technology do you have?
Expect at least a digital camera, a laser, computerized smile imaging, and immediate smile simulations.

Do you offer sedation dentistry?
The best cosmetic dentists offer several choices of calming medications in addition to any local anesthetic. Nitrous oxide is often available, as well as mild oral sedatives. Some dentists also offer sleep dentistry which uses a general anesthesia to render you entirely unconscious.
You will probably have more questions, according to your past experience of dentists and your future goals. Be sure to choose a cosmetic dentist who will listen to your concerns and who inspires your confidence.
If you are in the Denver or Lakewood, Colorado area we hope you will choose us. For more information about our cosmetic dentistry practice, please see Our Amenities, Meet Dr. Greenhalgh, Meet Our Staff, and Rave Reviews. To schedule your consultation with cosmetic dentist, Dr. Greenhalgh, just call or email our Denver dentistry office today.
Scott Greenhalgh
3190 South Wadsworth Blvd., Suite 300
Lakewood
,
Co
,
80227
Phone:

720-484-8832 or 800-757-6680

| Fax : 303-479-7599 | Contact Us
Office Hours:
Monday: closed
Tuesday: 11 a.m. - 6 p.m.
Wednesday: 7 a.m. - 1 p.m.
Thursday: 10 a.m. - 6 p.m.
Friday: 7 a.m. - 3 p.m.