Cosmetic Dentistry for Gapped Teeth
Proudly Serving Denver, Lakewood & nearby areas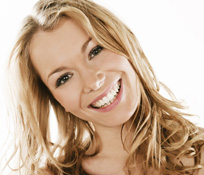 If you are unhappy with a gap in the front of your smile, you don't have to have braces to get it fixed. Tooth bonding is a minimalist treatment that can give you great-looking results in one day. For even better appearance, porcelain veneers can be used to give you a really perfect smile.
Denver Cosmetic Dentist, Dr. Scott Greenhalgh provides every patient with the best dental treatment available for him or her. He also works hard to take into account every detail, including ensuring that your bite is precise to ensure maximum comfort for your new smile. To talk to Dr. Greenhalgh about fixing your gapped teeth, please schedule an appointment at his Denver area practice today.
How to Fix a Gap without Braces
People who are unhappy with gapped teeth but haven't had them fixed are often put off by the thought of braces. But you don't need braces to fix gapped teeth. Dr. Greenhalgh offers two successful treatment options for gapped teeth:
Which one is right for you depends on the size of your gap and your desired aesthetics. For small to medium gaps, dental bonding works great, and it gives a good appearance. For larger gaps, porcelain veneers are required. Porcelain veneers also give you the absolute best appearance possible, so if having a really perfect smile is your goal, then veneers are your best choice.
A Comfortable Bite
Something that many dentists neglect when fixing gapped teeth is whether the result will be comfortable. After all, you used to have a gap, but now your teeth will be touching. If care is not taken, these teeth may press up against one another to give a crowded or "tight" feeling, which can lead to soreness in the teeth or jaw.
Dr. Greenhalgh is trained and practiced in the science of neuromuscular dentistry and bite management and he can make sure you have a precise bite that will be functional and comfortable after your gap is fixed.
If you are tired of your gapped teeth and want a great-looking and comfortable cosmetic dentistry solution, please contact Dr. Scott Greenhalgh for a consultation today if you are in Denver or Lakewood, Colorado.
Scott Greenhalgh
3190 South Wadsworth Blvd., Suite 300
Lakewood
,
Co
,
80227
Phone:

303-988-9060

| Fax : 303-479-7599 | Contact Us
Office Hours:
Monday: closed
Tuesday: 11 a.m. - 6 p.m.
Wednesday: 7 a.m. - 1 p.m.
Thursday: 10 a.m. - 6 p.m.
Friday: 7 a.m. - 3 p.m.