Implant Dentistry Candidacy
Denver and Lakewood, Colorado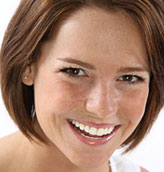 If you are missing a tooth (or teeth), dental implants will not only restore your smile – they will also protect the future health of your teeth and mouth, preventing bone loss and preserving your overall facial shape in the years to come. Dental implants can be crafted to seamlessly blend with your smile, giving you a teeth that look just as well as they function.
Basic Qualifications for Dental Implants
In order to be a good candidate for dental implants, you should meet the following basic qualifications:
Sufficient bone in your jaw to support the implant(s)
Strong overall health
No gum disease
No bruxism (teeth grinding)
If you do not have enough bone left at the site of your missing tooth to support a dental implant, you may be able to undergo a bone grafting procedure to supplement it. If this option applies, Denver Implant Dentist, Dr. Greenhalgh will discuss it with you during a personal consultation.
Additionally, if you are a smoker, we advise you to quit before undergoing a dental implant procedure. Smoking can interfere with the mouth's healing process, which is essential to the success of dental implants.
What to Expect From Dental Implants
Besides meeting the basic requirements listed above, you should also know what to expect from the dental implant procedure. For example, the implant placement process generally takes around six months to complete, since the implant root needs to fuse to your jawbone through a process called osseointegration. Only after a successful fusion can your final dental crown be placed.
Despite the lengthy process, the vast majority of our patients find their results more than worth the time and effort they have invested. If you are looking for a permanent solution to missing teeth that will fully restore the beauty and functionality of your smile, dental implants are a valuable and .
To find out if you are a candidate for dental implants, please contact us today to schedule a personal consultation with experienced Denver cosmetic dentist Dr. Scott Greenhalgh, DDS if you are in Denver or Lakewood, Colorado.
Scott Greenhalgh
3190 South Wadsworth Blvd., Suite 300
Lakewood
,
Co
,
80227
Phone:

720-484-8832

| Fax : 303-479-7599 | Contact Us
Office Hours:
Monday: closed
Tuesday: 11 a.m. - 6 p.m.
Wednesday: 7 a.m. - 1 p.m.
Thursday: 10 a.m. - 6 p.m.
Friday: 7 a.m. - 3 p.m.