Durability of Dental Veneers
Denver and Lakewood, Colorado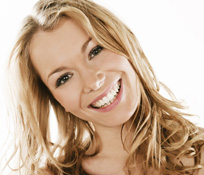 Porcelain veneers are a good way to cover some of the minor imperfections you have with your teeth. Issues like crooked teeth, gaps, chips, and teeth that are worn down can be corrected with porcelain veneers.
Porcelain veneers are very thin, around 0.5 millimeters thick. The thinness of the porcelain veneers shell may cause concern about its strength or durability. This may also lead many prospective porcelain veneers patients to wonder if the thin shell is even worth it. It is important for you to know that porcelain veneers, when taken care of properly, can last a very long time. They are also surprisingly strong.
Strength of Porcelain Veneers
The strength of porcelain veneers is due to the way it is bonded to the teeth. When Denver Cosmetic Dentist, Dr. Greenhalgh performs the porcelain veneer procedure, he removes a small portion of the enamel of the teeth that will receive the veneers. When the veneers are on your teeth, you will be able to chew and bite as you normally would. In some situations, "no prep" veneers (or Lumineers) can be made with essentially no trimming of the enamel.
Porcelain veneers are extremely durable, but they are not impervious to breaking. If your teeth can break, so can your veneers. This is why you need to take care of your veneers. Ways to extend the life of your porcelain veneers include:
Brush and floss regularly to avoid tooth decay and gum disease
Use a less abrasive toothpaste
Avoid biting on hard objects, such as ice
Wear a mouthguard when playing sports
Causes of Damage to Porcelain Veneers
If veneers break, the damage is usually caused by:
New cavities
Doing things with your front teeth you shouldn't do, like biting fishing line to cut it, or otherwise using your teeth as tools
Trauma (a fall or impact from sports)
Intense grinding or bruxing habits
Dr. Greenhalgh and his staff have seen virtually no porcelain veneer breakage from anything beyond these top four problems. Veneers can be long-lasting, with the potential to last 20-30 years in the right conditions.
If you are prone to grinding or clenching your teeth when you sleep, speak to Dr. Greenhalgh about using a night time guard.
If you would like to learn more about the durability of porcelain veneers and are in the Denver or Lakewood, Colorado area, please contact experienced cosmetic dentist Dr. Scott Greenhalgh and set up an appointment today.
Scott Greenhalgh
3190 South Wadsworth Blvd., Suite 300
Lakewood
,
Co
,
80227
Phone:

720-484-8832 or 800-757-6680

| Fax : 303-479-7599 | Contact Us
Office Hours:
Monday: closed
Tuesday: 11 a.m. - 6 p.m.
Wednesday: 7 a.m. - 1 p.m.
Thursday: 10 a.m. - 6 p.m.
Friday: 7 a.m. - 3 p.m.