Types of Teeth Crowns
Denver and Lakewood, Colorado
What Type of Dental Crown is Right For Me?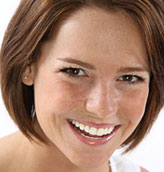 Only your dentist knows for sure…
Modern cosmetic dentistry offers many more choices than dentistry has offered in past years. You can choose from an array of dental crown types and Dr. Greenhalgh can customize the procedure for your individual dental needs and preferences.
Strength vs. Aesthetics
The choice of which type of crown to choose depends on:
Where in your mouth the crown is needed (that is, how much strength it needs to provide); and
How important its aesthetic appearance is to you.
These two choices are sometimes expressed this way:
Do you want a tank (gold crown) or a Ferrari (all-porcelain crown)?
For example, if you have a strong jaw-clenching habit, this puts stress on your teeth and you would need a stronger crown – a tank. However, if the crown's appearance is important to you, you would probably prefer a Ferrari. You and Dr. Greenhalgh would need to discuss the situation to determine which way to go.
All-Porcelain vs. Porcelain-Fused-to-Metal (PFM)
If your dental crown will be highly visible in your smile, you will probably be interested in how it looks and other things being equal, Dr. Greenhalgh will do everything he can to make it look as attractive and natural as possible. He would use an all-porcelain crown rather than a PFM crown.
All porcelain crowns are white and matched to your natural tooth color. Dental porcelain reacts to light the same way tooth enamel does and blends in beautifully with your natural teeth. For added strength, porcelain crowns have a lining which can be made either of ceramic or of metal.
All-Porcelain Crowns
All-porcelain crowns have a ceramic lining, usually zirconia (zirconium oxide). It will be a white lining and the crown will be attached to the tooth with a white bonding material rather than with a dark-colored dental cement. This type of crown lets a lot of natural light go through it, which helps it blend in and look extremely natural. It is often unidentifiable as being a crown and can be used on front teeth.
One of the few disadvantages of porcelain is that if it chips or fractures significantly, it cannot be repaired and you would need a new crown.
Lava™ Crowns
The Lava™ system, made by 3M™ ESPE, makes extra strong all-porcelain crowns with a zirconia lining. Denver cosmetic dentist, Dr. Greenhalgh will use special ESPE impression material to take a mold of your tooth. This material reproduces the exact contours of your tooth so that your Lava crown will be a snug and comfortable fit. He will also use an ESPE brand dental cement to attach your crown strongly. This is the strongest type of all-ceramic crown there has ever been for back teeth.
Porcelain-Fused-to-Metal (PFM) Crowns
A porcelain crown can be white porcelain on the outside with a gray metal lining inside for added strength. This type of crown is also closely matched to your natural tooth color although its appearance is subtly different from that of an all-porcelain crown. That is because the metal lining is given an opaque cover layer to hide its dark color. This slightly reduces the porcelain's translucency. These crowns are typically used on back teeth where good chewing strength is necessary.
Gold Crowns
Gold crowns have been offered by dentists for many decades and have proved their worth over and over. The gold is actually a gold alloy, with small amounts of other metals added for strength. Their obvious disadvantage is that they are not white like teeth. However, they have many other excellent features.
Gold crowns can be very precisely fitted to your tooth since the gold alloy is a very workable material. It will never chip or fracture. Your gold crown will wear at about the same rate as tooth enamel, which means that it will not damage its opposing tooth. For aesthetic reasons, gold crowns are usually done on back teeth. The only disadvantage to gold is that you can actually wear it out. Over time, it does wear slightly more that your natural teeth. Over enough years you can wear a hole in it. If a hole develops then the gold crown eventually needs to be replaced.
Combination Crowns
A combination crown is porcelain on the smiling side and gold on the chewing side. They are commonly referred to as "porcelain crowns with metal occlusals".
This type of crown is used as a way of combining the benefits of both porcelain and gold crowns. It can be a compromise for some back teeth that need additional chewing strength but the patient would still like the appearance to be as natural as possible.
Porcelain Onlays
Sometimes a tooth is too damaged to be restored with a filling but not damaged enough to need a crown. In that situation, a porcelain onlay may be the best choice. An onlay is like a step between a filling and a crown. It partially covers the tooth but does not completely cover it like a crown.
A porcelain onlay is custom-made in a lab from porcelain for your individual tooth. It extends from inside the tooth cusps to one or more outer surface. By being bonded to the tooth, it pulls inward on the tooth periphery, strengthening it and extending its life.
The main benefit of an onlay is that it preserves a significant portion of the tooth's healthy enamel. In addition, it is the most aesthetic restoration that can be made. Because it has no internal lining material, the light goes through the onlay and into your tooth with the most natural reflection and translucence possible.
Each dental crown is custom-made for an individual tooth. To decide which type of crown is best for you, please ask questions of Dr. Greenhalgh. He is always happy to explain how things work and why one procedure might serve you better than another. His well-trained staff can also answer questions.
If you would like to know more about the various types of dental crown or have tooth crown questions, please contact our Denver, Colorado dental office to schedule a personal consultation. We hope to see you soon.
Scott Greenhalgh
3190 South Wadsworth Blvd., Suite 300
Lakewood
,
Co
,
80227
Phone:

720-484-8832

| Fax : 303-479-7599 | Contact Us
Office Hours:
Monday: closed
Tuesday: 11 a.m. - 6 p.m.
Wednesday: 7 a.m. - 1 p.m.
Thursday: 10 a.m. - 6 p.m.
Friday: 7 a.m. - 3 p.m.