Types of Teeth Crowns
Proudly Serving Denver, Lakewood & nearby areas
Dental crowns are excellent options for patients looking to address problems such as cracked or chipped teeth. Lakewood dentist Dr. Scott Greenhalgh has used dental crowns to help many patients during his decades of work as a cosmetic dentist.
However, there are many different types of dental crowns, and they all have their strengths and weaknesses. The only way to determine which type of crown is right for you is to come in for a consultation.
Our Lakewood dentist will examine the problems you're experiencing with your teeth, ask about your priorities and help you determine which dental crown option is right for you.
If you're a resident of the Lakewood, Colorado area and you want to speak to our dentist about dental crowns, please call Scott Greenhalgh, DDS today at (303) 988-9060.
Your Dental Crown Options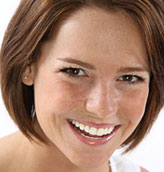 Dr. Greenhalgh will go through your choices in more detail in person, but your dental crown choices usually include:
All-Porcelain Crowns: These crowns are your most natural-looking option and can be used on front teeth. Bonded to the tooth with a white material, all-porcelain crowns allow light to pass through and blend seamlessly with surrounding teeth. However, if the porcelain chips or cracks the crown has to be replaced completely.

Porcelain-Fused-To-Metal: These crowns have a porcelain exterior with a metal interior. Stronger than all-porcelain crowns, these tend to exhibit subtle differences from natural teeth and are more appropriate for back teeth.

Gold crowns: Made from a gold alloy, traditional gold crowns are incredibly strong. They don't chip or break. However, they will wear down over the years, and they are only appropriate for back teeth considering their unnatural appearance.

Lava™ Crowns: An all-ceramic crown with a zirconia lining, the Lava™ system is based on a mould taken of your teeth so that it fits precisely and snugly. These crowns very strong.

Porcelain Onlays: Finally, in situations where you need a solution stronger than a filling but not as extensive as a crown, a porcelain onlay, which is custom-made for your tooth and then bonded as a partial cover, might be a solution for you.
Choosing from among these options might seem intimidating. Our Lakewood dentist is here to help.
If you live in Lakewood, Colorado or any of the surrounding communities and you're looking for an experienced dentist, please contact Dr. Scott Greenhalgh, DDS today for a consultation.
Scott Greenhalgh
3190 South Wadsworth Blvd., Suite 300
Lakewood
,
Co
,
80227
Phone:

303-988-9060

| Fax : 303-479-7599 | Contact Us
Office Hours:
Monday: closed
Tuesday: 11 a.m. - 6 p.m.
Wednesday: 7 a.m. - 1 p.m.
Thursday: 10 a.m. - 6 p.m.
Friday: 7 a.m. - 3 p.m.