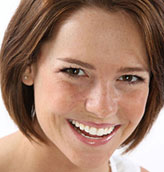 Since the array of choices in how to whiten your teeth is quite vast and the stores are full of inexpensive products like strips, kits, paint-on devices and "whitening" toothpastes, it might seem that it is easy to whiten your teeth. But if you want really good results without any wasted time, or if your teeth are particularly sensitive, you would do better to visit a qualified cosmetic dentist. That way, you will get better results than from either store-bought products or a general dentist.
Denver cosmetic dentist Dr. Scott Greenhalgh does offer take-home kits that include custom trays made just for you. This will avoid the potential problems of sore teeth and gums and significant sensitivity that you can get by using store-bought kits. If you would prefer to whiten your own teeth at your convenience, take-home kits are an excellent option and can give you very pleasing results. They are especially a good approach if you are good at keeping to a routine.
You may have heard about Zoom! Teeth Whitening, as it is a popular option. We have the Zoom2™ system. In about 90 minutes, you can walk out of our office with a brightly enhanced smile. Many people like that speed, rather than waiting one or two weeks for results from other methods.
Not every cosmetic dentist offers Deep Bleaching™, but we do. We recommend it highly if your teeth are noticeably yellowed or more deeply stained than average. This will give you the best whitening result and the least sensitivity of all teeth-whitening options. You will also have your customized trays to use at home for touch-ups at any time.
Your decision on how to accomplish your teeth whitening may be influenced by several factors. Depending on your personality, you might want the extra brightness of Deep Bleaching™ or the more subtle results of an at-home kit. Your budget may come into play – please see our page on Financial Options for how we can help. If you have a very busy lifestyle, the Zoom2™ route may be best for you.
To achieve the best teeth whitening in the most comfortable manner, the first step is to have an examination with Dr Greenhalgh, so he can help identify the best approach for you. Get started by completing our online contact form or calling 303-988-9060 today. We serve patients throughout the Denver area from our office in Lakewood, Colorado.