What is Cosmetic Dentistry?
Proudly Serving Denver, Lakewood & nearby areas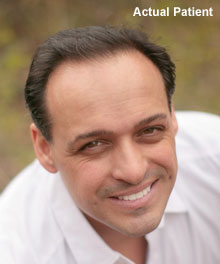 It is impossible to overstate the importance of a bright, white, photogenic smile. It's often the first thing people notice about us, and it draws the eye in conversation.
That's why cosmetic dentistry is so important to our Denver-area patients. And it's why Dr. Scott Greenhalgh has spent decades acquiring the specialized training and experience to become one of the region's most well-regarded providers of cosmetic dentistry.
Our cosmetic dentist can help you achieve the beautiful smile you've long desired through the use of safe, proven procedures that can address and eliminate specific problems.
If you live in the Denver, Colorado area and you need an experienced cosmetic dentist, please call Dr. Scott Greenhalgh, DDS today at (303) 988-9060.
Cosmetic Dentistry Procedures
During his decades of work as a cosmetic dentist, Dr. Greenhalgh has acquired a keen understanding of how procedures can interact to fix individual problems while improving the greater whole- your smile. And he understands which procedures are safe and effective at achieving your goals, especially with inconspicous dental work.
We offer a massive range of procedures, including:
Each of these procedures is designed to address a specific cosmetic complaint. In some circumstances, you might also need to utiize general dentistry procedures or consider a more extensive rejuvenation that requires multiple procedures. These smile makeovers can effect a truly extraordinary transformation in the quality of your smile.
Why Dr. Greenhalgh?
You likely have quite a few cosmetic dentistry options in the Denver area. Dr. Greenhalgh is the right option if you are looking for a truly skilled, experienced, compassionate and proven cosmetic dentist.
Dr. Greenhalgh has made a significant commitment to ensuring that he and his staff are as well-equipped as possible to handle all of your needs. For example, we can ease your dental anxiety through the use of sedation dentistry, which allows you to undergo the dental work you need in a pleasant, relaxed, dream-like state.
And if you're suffering from the persistent headaches that are caused by temporomandibular joint disorder, you can see tremendous improvement from our TMJ practice, which relaxes your jaw and relieves your pain.
Dr. Greenhalgh has been helping the people of Denver with their cosmetic dentistry needs for decades. If you want to learn more, we'll be happy to arrange a consultation and initial examination so we can determine the extent of your needs.
If you're a Denver, Colorado resident and you're looking for a cosmetic dentist you can trust, please contact Dr. Scott Greenhalgh, DDS today for a consultation.
Scott Greenhalgh
3190 South Wadsworth Blvd., Suite 300
Lakewood
,
Co
,
80227
Phone:

303-988-9060

| Fax : 303-479-7599 | Contact Us
Office Hours:
Monday: closed
Tuesday: 11 a.m. - 6 p.m.
Wednesday: 7 a.m. - 1 p.m.
Thursday: 10 a.m. - 6 p.m.
Friday: 7 a.m. - 3 p.m.