Porcelain Veneers
Denver and Lakewood, Colorado
Porcelain veneers are one of the most popular of all cosmetic dentistry procedures. They are versatile, they give fast results and they offer many benefits. You can have them done as a standalone procedure, or as part of a smile makeover. Veneers can treat many of the dental problems described on our page Common Cosmetic Dental Problems.
Visit our Media Room for more videos.
What are Porcelain Veneers?
A porcelain veneer is a thin cover of porcelain which is bonded to the front surface of a tooth. It is a way of replacing an impaired front surface and usually includes the biting edge to make your tooth straight, smooth and stronger than it was before. Several veneers are usually done in one procedure to rejuvenate and refresh a smile and correct defects such as:
Large chips
Large and small gaps
Discoloration that is not responsive to tooth whitening
Unevenness
Worn down teeth
When cosmetic dentist, Dr. Greenhalgh creates your porcelain veneers, he will choose a shade of porcelain to match your natural teeth. Dental porcelain has the same shiny, white look as healthy tooth enamel and your veneers will look the same as your other teeth. Only you and Dr. Greenhalgh will know that you have veneers. If only a few veneers are made, they are matched to the color of your neighboring teeth and tooth whitening is an excellent option for a good result. If you want a really white, straight smile, you'll want more veneers.
Who is a Candidate for Porcelain Veneers?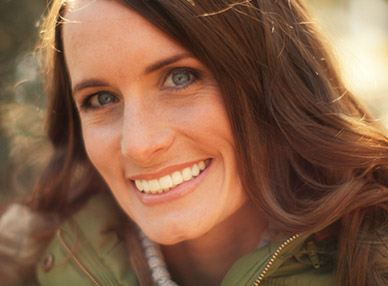 Veneers can work for almost anyone. The trick is to determine how to make them work best for you. Dr. Greenhalgh will start with a complete dental examination. He will take X-rays and digital photographs and show you on the chairside computer monitor and the X-ray screen what he is looking at and thinking about for you.
You can discuss your concerns and explain how you would like your smile to be enhanced, and he will answer your questions clearly. He places a high priority on patient education and will take the time needed in talking with you and determining with you what is the best course of action.
For more information, see Candidates for Porcelain Veneers.
Caring for Your Veneers
Dental veneers need the same care as you give your natural teeth. Brush at least once a day, preferably after each meal. Use a soft toothbrush – we frequently find the best results using Sonicare™. Also floss daily to remove food and bacteria from the tooth surfaces which touch each other. Come in at least twice a year for professional cleaning, as a hygienist is the only one who can remove tartar build-up.
Tartar is plaque which has been left on the teeth long enough to harden
Plaque is the term for bacteria and their excretions – that sticky substance that builds up through the day
When you come for your cleaning, you can have a general check-up as well and Dr. Greenhalgh will make sure your veneers are in good shape.
Find out more about the Benefits of Porcelain Veneers.
For more information, see Durability of Porcelain Veneers.
Learn about Porcelain Veneers Expectations.
If you would like to improve your smile in a fast and effective way, porcelain veneers may be a good option for you. Please see Questions About Porcelain Veneers and Porcelain Veneer Options for more details.
If you are in the Denver or Lakewood, Colorado area and would like to schedule a porcelain veneers consultation with Dr. Greenhalgh, please call or email our dental veneers office today. We look forward to meeting with you.
Scott Greenhalgh
3190 South Wadsworth Blvd., Suite 300
Lakewood
,
Co
,
80227
Phone:

720-484-8832 or 800-757-6680

| Fax : 303-479-7599 | Contact Us
Office Hours:
Monday: closed
Tuesday: 11 a.m. - 6 p.m.
Wednesday: 7 a.m. - 1 p.m.
Thursday: 10 a.m. - 6 p.m.
Friday: 7 a.m. - 3 p.m.