Common Cosmetic Dental Problems
Proudly Serving Denver, Lakewood & nearby areas
Many people have things they don't like about their smile. Sometimes people won't show their teeth in pictures and even keep their hands over their mouth when speaking. Yet many of these problems can be easily corrected by cosmetic dentistry. So take heart if you have been feeling embarrassed about your smile. The solution may be simple and easy.
Crooked teeth
Minor crookedness is fairly common and can distract from an otherwise even and pleasing smile. It can be genetic or caused by many factors, some of which date back to early childhood. Denver Cosmetic Dentist, Dr. Greenhalgh can assess the severity and recommend an appropriate treatment. Mild crookedness can be corrected with some tooth reshaping and use of dental bonding, or by porcelain veneers.
Chipped teeth
Visually a small chip in one of the front teeth can mar your smile. Yet small chips can be easily treated when they are shallow and the tooth's interior is intact. The tooth can be repaired using dental bonding, which is a short and simple procedure. Porcelain veneers are often used if there are also other minor defects such as slightly uneven sizing or deeply ingrained discoloration impervious to tooth whitening. The veneers give new front surfaces to all the teeth they cover.
Discoloration
If your teeth have become stained by pigmented foods and drinks, or yellowed by age, a tooth whitening procedure can brighten them dramatically. After 20 years of whitening experience Dr. Greenhalgh has found that Deep Bleaching™ produces both the whitest and most comfortable results. We can also offer Zoom2™ whitening, a procedure which allows you to leave with a dramatic change in about an hour. Or you can whiten them on your own time with a take-home professional whitening kit which Dr. Greenhalgh can supply.
Gaps between the teeth
Gapped front teeth can detract from an otherwise beautiful smile. If the gap is relatively small it can be corrected with bonding. Larger gaps can be corrected with porcelain veneers. In some cases a gap is the result of overall tooth misalignment. Dr. Greenhalgh will give you a thorough examination and recommend the best course of action for you.
Misshapen teeth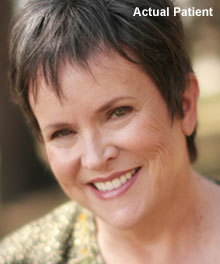 Over time some teeth wear unevenly and uneven front teeth can make you appear older than you are. Sometimes cosmetic reshaping can make your front teeth even and attractive again. Porcelain veneers might be the easiest solution, providing new front surfaces for front teeth with mismatched shapes. Each case is individual and Dr. Greenhalgh will discuss the best options with you.
Worn-out dental work
Over the years, dental restorations can wear down, especially if you have any habit of tooth grinding or jaw clenching. In some people, the bite was never correctly aligned, which causes the upper and lower teeth to continually rub or bump against each other and this will cause uneven wear. All dental work eventually wears out. Some dental work can become dark and unattractive. After giving you a thorough examination, Dr. Greenhalgh can make recommendations as to the best way of refreshing your dental restorations and bringing more attractiveness to your smile.
Black lines on crowns
If you are seeing thin black lines near the gumline on any of your crowns, that is the crown's metal lining or a cavity starting to show. As we age, the gum tissue slowly shrinks and recedes, and exposes the metal lining which it previously covered. Dr. Greenhalgh can replace those crowns with all-porcelain crowns. You can discuss all your options with him for improving your dental health and attractiveness.
Gummy smile
When too much gum tissue shows, making your teeth look too small or short, the gums can be reshaped with a laser. This will reveal more of the tooth enamel and give a more pleasing appearance to your smile. It can be done in one appointment and will produce a dramatic smile improvement.
Missing teeth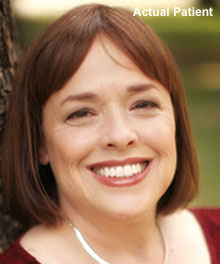 Regardless of the reason a tooth is missing, it should be replaced as soon as possible. If the gap is left for too long, the adjacent teeth will move to fill it, causing misalignment. There is also the gap left in the jawbone by the missing tooth root. The bone will dissolve away if nothing is done, giving you an older look. We offer bridges to fill the tooth gap and also dental implants which hold a replacement tooth, or more than one. Implants are a permanent way of filling both the tooth gap and the root gap.
Uneven Front Teeth
Uneven front teeth can be devastating because they are the most apparent part of your smile. A common cosmetic dental problem, uneven teeth can be made even and symmetrical with cosmetic dentistry.
To see the pleasing results of some of our happy patients, please go to the Before and After Gallery. Whatever dental problems you are experiencing, there are good cosmetic solutions and Dr. Greenhalgh will always have your dental health in mind when discussing or performing cosmetic procedures.
To learn more about your best options, please call or email our Lakewood cosmetic dentistry office. We will be happy to schedule a consultation for you with Dr. Greenhalgh. We serve Denver and Lakewood, Colorado and all surrounding areas.
Scott Greenhalgh
3190 South Wadsworth Blvd., Suite 300
Lakewood
,
Co
,
80227
Phone:

720-484-8832 or 800-757-6680

| Fax : 303-479-7599 | Contact Us
Office Hours:
Monday: closed
Tuesday: 11 a.m. - 6 p.m.
Wednesday: 7 a.m. - 1 p.m.
Thursday: 10 a.m. - 6 p.m.
Friday: 7 a.m. - 3 p.m.