Tooth Whitening Update
Proudly Serving Denver, Lakewood & nearby areas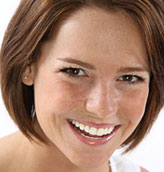 Have you been wondering how best to whiten your teeth? There are certainly many options for this including store-bought products that may or may not help. Dr. Greenhalgh offers several tooth whitening choices and will be happy to discuss them with you. There are advantages and disadvantages to all the choices but there is probably one that will be best for you.
Some Teeth Whitening Options
One of the options we give you is not given by all cosmetic dentists. That is the fairly new procedure of Deep Bleaching™. If other methods have not worked well for you in the past, this may be your best choice. Deep Bleaching™ penetrates the teeth more deeply and reaches the layer below the enamel, called the dentin. It can remove deeper stains than other in-office methods.
Deep Bleaching™ is a combination of in-office and at-home work. You would first have an in-office procedure to get things started. Then for two weeks, you use custom trays at home and a different whitening agent. To finish, there is a second in-office procedure and by the time that is done, your smile is dramatically transformed.
Dr. Greenhalgh also offers the Zoom2 Chairside Teeth Whitening System, which takes just 45 minutes or so. For such a short procedure, it works wonders in brightening your smile and even includes a take-home kit for later touch-ups. The main advantage of this technique is that you can go home with white teeth today. It is perfect for brightening your smile before a special event such as a wedding, or family reunion.
If you would prefer to whiten your teeth at home, we offer take-home kits. Dr. Greenhalgh would take a mold of your upper and lower arches and have custom trays made. This is important and makes the difference between a professional take-home kit and a store-bought kit.
If the trays fit snugly, you will have consistent and reliable results because teeth whitening happens only when the whitening agent is in contact with tooth enamel.
If they are ill-fitting generic trays, whitening gel will leak out and be swallowed and saliva will get in and dilute the whitening gel. Results will be mediocre at best, and you will have significant sensitivity in your teeth and gums.
Making the Decision
The decision of how to whiten your teeth will usually be guided by various factors:
Denver cosmetic dentist, Dr. Greenhalgh may find things such as gum recession that can affect how comfortable your whitening process is. He may recommend specific desensitizers to help keep you comfortable during the whitening process.
Your personality – the bright shade of white that appeals to a very outgoing personality might seem overdone to a more introverted person; so he will consult with you about getting the results YOU want to achieve.
Your budget – costs vary and we will be happy to work with you on financing OK people now hate the word "financing". I want to just leave this point off.
Your habits – the at-home method may work better for some lifestyles and the in-office method better for others.
If you would like to know more about tooth whitening, please call or email our Denver, Colorado office today for a teeth whitening consultation with Dr. Greenhalgh. We hope to meet with you soon.
Scott Greenhalgh
3190 South Wadsworth Blvd., Suite 300
Lakewood
,
Co
,
80227
Phone:

303-988-9060

| Fax : 303-479-7599 | Contact Us
Office Hours:
Monday: closed
Tuesday: 11 a.m. - 6 p.m.
Wednesday: 7 a.m. - 1 p.m.
Thursday: 10 a.m. - 6 p.m.
Friday: 7 a.m. - 3 p.m.