Sedation Dentistry / Sleep Dentistry
Denver and Lakewood, Colorado
Sleep dentistry and conscious sedation are two different approaches to dental anxiety and we offer both. The term sleep dentistry is often used to refer to what is more accurately called sedation dentistry.
Sleep Dentistry (also known as Deep Conscious Sedation)
Sleep dentistry is one of the great untapped resources in dental care and gives many benefits:
You can sleep through your care without worrying if you will be comfortable
You can have more dental work done in one appointment – even all of it
If you have limited mouth/jaw opening, your jaw will relax more while you are asleep
It helps you overcome prior difficult experiences at the dentist by ensuring a great visit
You can stop worrying about a gag reflex
It will keep you comfortable if you have a physical problem (like back pain)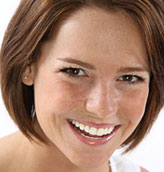 Sleep dentistry is the use of anesthesia which makes you unaware of your surroundings and leaves you with no memory of your dental procedures. It is administered through a small intravenous line by a qualified anesthesiologist, who monitors your vital signs throughout your dental work. When the work is finished, the anesthesiologist will determine when you are awake and alert enough to go home. You will need someone to drive you home.
You will feel asleep during the entire appointment; however you are not unconscious as you would be in the hospital. If you are asked to turn your head, or close your mouth, the rest of your body is still awake enough to do this.
Most people awake and ask "are you really done? That was great!"
Conscious Sedation
We also offer oral medications to reduce anxiety. They make you feel calm and unconcerned. The effects wear off slowly so you would need a ride home.
If you prefer, nitrous oxide (laughing gas) is available. You would breathe it through a soft mask. It gives you a calm and relaxed feeling and as soon as you remove the mask, the effects wear off. That means you can drive yourself home.
For more information on your comfort, please see Our Amenities. We try to make our entire office a relaxing place and our staff will treat you with the utmost respect and caring.
Read for more information on Sedation Dentistry Candidacy.
Good dental health is important in itself for clean breath and a pleasing smile. But your dental health is also related to your general health and can give early indications of other health problems in the making. For more information please see our page on Oral Health and Your General Well-Being.
Everyone on our staff is experienced and kind at helping people who feel anxious. We urge you not to delay any necessary dental work, but to give us a call today. Or you can email our sleep dentistry office. We serve Denver, Lakewood, and all surrounding areas.
Scott Greenhalgh
3190 South Wadsworth Blvd., Suite 300
Lakewood
,
Co
,
80227
Phone:

720-484-8832 or 800-757-6680

| Fax : 303-479-7599 | Contact Us
Office Hours:
Monday: closed
Tuesday: 11 a.m. - 6 p.m.
Wednesday: 7 a.m. - 1 p.m.
Thursday: 10 a.m. - 6 p.m.
Friday: 7 a.m. - 3 p.m.