White Fillings / Tooth Colored Fillings
Proudly Serving Denver, Lakewood & nearby areas
The beauty of white fillings is that your cavities can be repaired and your teeth will still look 100% natural. This gives people confidence about smiling and laughing spontaneously.
As cosmetic dentistry has expanded in recent years and more people have discovered its benefits, white fillings have become popular, along with tooth whitening and porcelain veneers. Why have unsightly metal fillings when you can have them white and matching your natural teeth?
You can see our Candidates for White Fillings page for more information.
How are White Fillings Placed?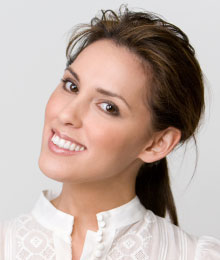 The procedure is similar to the amalgam filling procedure, with an important difference. The material used is known as dental bonding and also called white composite or dental composite. It is a pliable, soft substance like putty when it is applied to your teeth.
As with any other type of filling or dental procedure, the tooth is first cleaned of any decay or damage and all bacteria are removed. Dr. Greenhalgh and his staff use an intricate set of steps that clean, desensitize and bond the white filling to your natural enamel. When it is complete he hardens it with a curing light, a step which takes only a few seconds.
Besides a very natural look, other advantages of white fillings include:
Less sensitivity than amalgam fillings
Greater strength than a tooth with a silver filling because the filling is adhered to the enamel, not just sitting in the cavity
Finally, Dr. Greenhalgh will test your bite to make sure it is comfortable and your teeth are coming together correctly.
Advantages of White Fillings
The obvious advantage is that white fillings blend visually with your tooth enamel and do not stand out as being fillings. Dr. Greenhalgh will choose a shade of bonding to match your teeth for best results.
Other advantages are:
The dental bonding material is made part of your tooth and will not come loose or fall out.
The composite filling matches the properties of your natural enamel, flexing the same way that your tooth naturally flexes, thus avoiding forces that might crack your tooth. A metal filling contracts and expands more than your natural tooth does. Over time this can crack your tooth or enable another cavity to start.
It contains no mercury. Mercury makes up about 50 percent of metal amalgam. With each hot food or drink, the mercury in your metal filling gives off mercury vapor which is absorbed by the body. There is controversy as to whether that amount of vapor is harmful to one's health or not. You can read more on the FDA's Questions and Answers on Dental Amalgam and the American Dental Association's page on Dental Filling Options.
While silver mercury fillings have performed well for over 100 years, Dr. Greenhalgh believes that white fillings provide an overall stronger, more comfortable, and healthier result.
Click here for more information about replacing fillings
To learn more about white fillings and porcelain fillings and to discuss your concerns and goals with Dr. Greenhalgh, please call or email our cosmetic dentistry office in Lakewood, Colorado. We will be pleased to schedule a personal tooth colored fillings consultation for you in the Denver area.
Scott Greenhalgh
3190 South Wadsworth Blvd., Suite 300
Lakewood
,
Co
,
80227
Phone:

303-988-9060

| Fax : 303-479-7599 | Contact Us
Office Hours:
Monday: closed
Tuesday: 11 a.m. - 6 p.m.
Wednesday: 7 a.m. - 1 p.m.
Thursday: 10 a.m. - 6 p.m.
Friday: 7 a.m. - 3 p.m.