Smile Makeover
Proudly Serving Denver, Lakewood & nearby areas
You may have seen smile makeovers featured on television programs and yours can be just as dramatic.
Dr. Greenhalgh will listen to your dental concerns and desires and give you a complete dental examination. He'll ask you what you don't like about your smile, how that's affecting you, and how you would like your smile changed. Then he will perform a thorough examination to determine the best way to create that change for you.
Visit our Media Room for more videos.
What's in a Smile Makeover?
Tooth whitening is often part of a smile makeover. Virtually everyone can achieve dramatic results with whitening, especially using our Deep Bleaching™ process. This sets a new bright shade of white for your smile. Then if you go on to have any porcelain veneers, white fillings, or porcelain crowns, Dr. Greenhalgh can match the porcelain to this new color.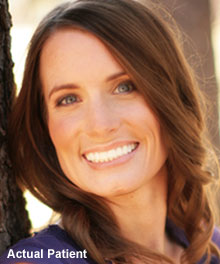 Many people choose to have their old metal fillings replaced with white fillings, and gold crowns replaced by porcelain crowns. This makes your dental work invisible. The porcelain restorations blend in perfectly with the natural teeth and your smile becomes fresh and youthful in appearance.
Any of the issues mentioned on our Common Cosmetic Dental Problems page can be treated as part of a smile makeover. If you have some missing teeth, the best solution is one or more dental implants, which will fill both the visible gap left by the lost tooth and the invisible gap where the roots were. Dental implants with their attached replacement teeth take care of both health and beauty.
Planning Your Smile Makeover
Dr. Greenhalgh will discuss your options with you and together you can determine a plan. He will then recommend the best timing and sequence. We can use computer smile imaging to let you preview your new smile before any work is started. In some cases, a full mouth reconstruction is a better option than a smile makeover.
We can help you set a timeframe so that you'll be ready for upcoming special occasions. We offer a number of Financing Options to help your smile makeover fit within your budget.
Click here for more Smile Makeover Questions.
Additional Resources:
To learn more about your smile makeover, the first step is to contact our cosmetic dentistry office and schedule a consultation with Dr. Greenhalgh. Our office is in Lakewood and serves the entire Denver, Colorado area.
Scott Greenhalgh
3190 South Wadsworth Blvd., Suite 300
Lakewood
,
Co
,
80227
Phone:

303-988-9060

| Fax : 303-479-7599 | Contact Us
Office Hours:
Monday: closed
Tuesday: 11 a.m. - 6 p.m.
Wednesday: 7 a.m. - 1 p.m.
Thursday: 10 a.m. - 6 p.m.
Friday: 7 a.m. - 3 p.m.