For many decades now, dentists have offered crowns as a way of preserving a badly damaged or decayed tooth. General dentistry focused on restoring the strength of the tooth with only minimal concerns for creating a natural or attractive appearance. As a cosmetic dentist, Dr. Scott Greenhalgh offers porcelain crowns which look like healthy, real teeth.
If you have a damaged or decayed tooth, please contact Dr. Greenhalgh in Lakewood today at (720) 484-8832 to schedule your dental exam and consultation. Our skilled team of dental professionals provides high-quality cosmetic dentistry to patients in Denver, Lakewood, Golden, and surrounding Colorado areas.
There are many details involved in dental crowns, some of which are: 
Getting a Crown For Your Tooth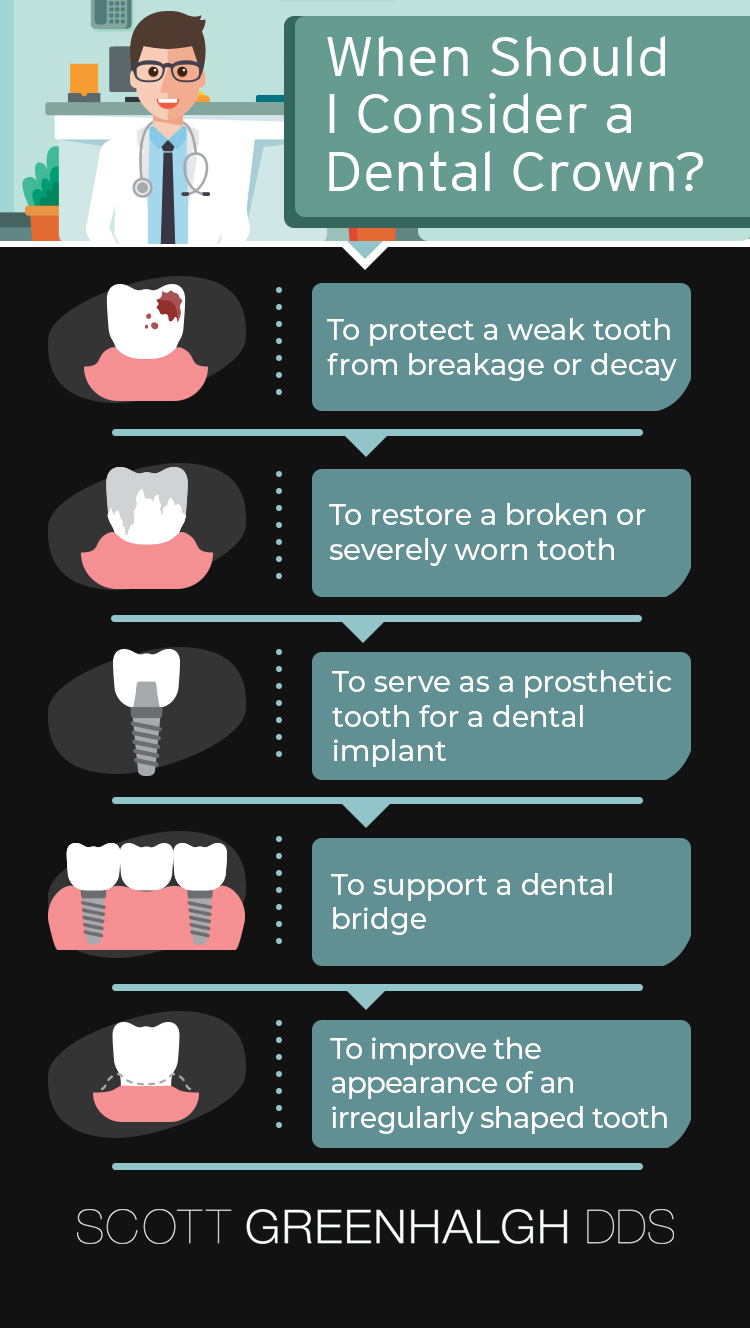 Before going ahead with any tooth crown procedure, Dr. Greenhalgh will first present you with a clear explanation as to why this treatment is necessary, often using a digital photo of your tooth to show you the problem. He'll listen to your concerns, answer questions, and explain how the procedure is done. Your comfort is always our priority.
Whether they're made of gold or porcelain, the purpose of a dental crown is typically the same: to protect and reinforce a damaged tooth. A crown is a customized cap which fits over the cleaned and reinforced tooth core. Frequently a tooth that requires a crown also requires a "build up" to properly seal and reinforce the inner part of the tooth.
Read our blog to find out more information about Dental Crowns!
All-Porcelain Crowns
As the field of cosmetic dentistry has expanded and grown in recent years, new and improved dental materials have been developed. Dental porcelain is one of those, and it comes in an array of shades.
Dr. Greenhalgh will choose a shade to match your natural tooth color. If you are interested in a tooth whitening procedure, you should have it before the crown, so that he can match the porcelain to your new color. An advantage of porcelain is that it doesn't change color over time.
The best dental porcelain has subtle variations of color, as tooth enamel does. The outside of an all-porcelain crown uses this top-level porcelain and the inside is lined with another type of dental porcelain which adds strength to the crown. It is often made of zirconia, which you may recognize as a diamond substitute.
Porcelain and tooth enamel are both semi-translucent. In other words, both of them reflect some light and absorb some, and both have a pearly glow as a result. When you have an all-porcelain crown, your tooth acquires strong white surfaces all around it which replace the damaged old enamel surfaces. Only you and Dr. Greenhalgh would know it was a crown. The main advantage of this type of crown is that it has no dark line at the edge.
Porcelain-Fused-To-Metal Crowns
Another way to strengthen a porcelain crown is by giving it a metal lining instead of a porcelain lining. The outside surfaces are matched to your natural tooth color and the inside metal surface cannot be seen. The main reason we use these crowns is their strength.
As we age, the gums gradually shrink. Slowly the metal lining becomes visible where before gum tissue had concealed it. It appears as a black streak near the gumline. If you're beginning to see darkness at the edge of your old crowns, ask us about options for a more cosmetic or all-porcelain crown.
Gold Crowns
Although gold does not match our tooth enamel, gold crowns are still placed on back teeth where the chewing forces are heaviest. They provide an excellent restoration. The gold crown provides a strong chewing surface and can last from 5 to 25 years. It is slightly softer than tooth enamel and may eventually be worn through and need replacing.
Lava™ Crowns
An all-ceramic crown with a zirconia lining, the Lava™ system is based on a mold taken of your teeth so that it fits precisely and snugly. These crowns very strong.
Porcelain Inlays and Onlays
Sometimes a tooth will have a large cavity or crack, but not enough damage to require a dental crown. Yet it requires more strength than a filling would provide. This is when a porcelain inlay or onlay can be done.
An inlay is a specially designed piece of porcelain small enough to fit within the tooth's cusps. It's used in situations where more strength or a tighter fit is necessary and is an alternative to a white filling.
 
An onlay is also a specially designed piece of porcelain and is used to rebuild a large portion of the tooth. When a tooth has a major problem and would ordinarily have a full tooth crown made for it, an onlay can be an alternative. An advantage of the onlay is that it can preserve much of your natural enamel while giving back important strength to your tooth. This is typically the most aesthetic way to repair a tooth, creating a virtually undetectable result.
Patient Testimonial
"Dr. Greenhalgh has been our dentist for more than 10 years. He was referred by the Bruce Family, who are very close friends. We enjoy our care with the facility. Although we have moved to Arvada, we do not mind going out of our way to get the constant good dental care we have had all these years. Congratulations on any award you receive, Dr. Greenhalgh. You surely will receive our business now and in the future."
How is the Inlay/Onlay Procedure performed?
If porcelain is used to rebuild your tooth, it requires two steps:
At the first appointment, the tooth is thoroughly cleaned and an impression is made. You will leave that day with a temporary inlay or onlay. The porcelain is then fabricated by our ceramicist in our in-house dental lab.
 
The second appointment is to properly fit and bond the porcelain to your tooth. This makes it a part of the tooth and it holds the tooth together. A tooth repaired in this way is almost as strong as if it had never had a cavity or crack and is now preserved for a lifetime.
Who Is the Ideal Candidate for Dental Crowns?
Ideal candidates for dental crowns are patients who mostly need dental treatment for cosmetic reasons. Dental crowns efficiently restore broken, chipped, cracked, or fractured teeth. Patients who have previously had a root canal or dental implants are still eligible for dental crowns.
If you are suffering from gum disease or severe dental decay, it's essential to restore your oral health before treating cosmetic conditions with dental crowns.
How Long Does It Take To Recover From the Dental Crown Procedure?
Recovery from dental crown treatment usually takes three to five days. During this recovery period, it's common for patients to feel the following side effects:
Increased tooth and gum sensitivity
Gum irritation
Redness
Swelling
Bite issues
Soreness
Within a few days, these side effects should subside as the patient gets used to the feeling of the new dental crowns in their mouths. Some risks with dental crowns can include nerve issues, tooth decay, and allergic reactions. However, under the care of Dr. Greenhalgh, who prioritizes patient comfort and safety during every procedure, patients can expect to easily manage and avoid these side effects and risks during their recovery.
Are There Any Foods or Drinks I Need To Avoid After I Get My Dental Crowns?
Taking care of your oral health, as well as being mindful about the foods and drinks you eat, especially while recovering from dental crown treatment, will have a huge effect on how long they will last. Avoiding hard and crunchy foods will prevent breakage or looseness of the dental crown. Sticky foods such as caramel and gum can also cause dental crowns to break apart from the tooth, so avoiding these foods is also recommended. Sugary drinks such as soda or fruit juices can create acidic environments for bacteria to live in. Opt for low-sugar replacements or refreshing beverages and healthier foods to optimize your oral health and dental crown results. 
How Long Will My Dental Crowns Last?
Dental crowns are made to last around 15 years, but with the proper oral care routine and a healthy diet, patients can even extend the lifetime of their crowns to up to 30 years. However, it is often recommended that patients get their dental crowns replaced every 15 years to achieve optimal oral protection and to keep their smile as healthy and bright as possible.
Contact Our Denver Dentist
Dental crowns are excellent options for patients looking to address problems such as cracked or chipped teeth. Dr. Scott Greenhalgh has used teeth crowns to help many patients during his decades of work as a cosmetic dentist. However, there are many different types of dental crowns, and they all have their strengths and weaknesses. Choosing among these options might seem intimidating, but the only way to determine which type of crown is right for you is to come in for a consultation.
Our Lakewood dentist will examine the problems you're experiencing with your teeth, ask about your priorities and help you determine which dental crown option is right for you. To speak to Dr. Greenhalgh about dental crowns, please contact us at 720-484-8832 today.