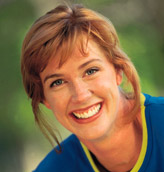 Every hour, one person dies from oral cancer in America. This death rate has remained relatively unchanged for more than four decades. Surprisingly, more than 25 percent of oral cancer victims have no lifestyle risk factors. However, when oral cancer is diagnosed early, treatment is 90 percent successful.
Dr. Scott Greenhalgh is proud to offer patients throughout the Denver area an early diagnosis tool in the form of Vizilite technology. Call our office in Lakewood at 303-988-9060 to learn more.
Vizilite Oral Cancer Screening
Vizilite is a technology for early detection of any abnormal tissue in your mouth that is not visible during a regular exam. The early detection of precancerous tissue can minimize, even eliminate the potentially disfiguring effects of oral cancer. It can also save your life. When oral cancer is diagnosed in its later stages, treatment is expensive and has a poor survival rate.
Vizilite technology is the only device approved by the Food and Drug Administration (FDA) for the identification and monitoring of oral abnormalities that could lead to cancer.
How Vizilite Works
The Vizilite is used immediately after a regular visual exam.
Dr. Greenhalgh will have you rinse with a special solution
He will dim the overhead lighting
He will then shine the Vizilite on your mouth tissue
With the rinsing solution still on it, any abnormal tissue will appear lighter in color, as it does not absorb the light. Healthy tissue reacts differently to the rinsing solution and appears darker in color.
Read what our patients are saying!
" Dr. Greenhalgh has been our dentist for more than 10 years. He was referred by the Bruce Family, who are very close friends. We enjoy our care with the facility. Although we have moved to Arvada, we do not mind going out of our way to get the constant good dental care we have had all these years. Congratulations on any award you receive, Dr. Greenhalgh. You surely will receive our business now and in the future. "
Click here to read more reviews
Am I at Risk for Oral Cancer?
Those with lifestyle risk factors are at the greatest risk:
Tobacco use:– smoking or chewing tobacco.
Alcohol consumption – consuming at least one alcoholic drink per day. A single alcoholic beverage is three ounces of hard liquor, four ounces of wine or 12 ounces of beer.
Immune deficiencies such as HIV, AIDS, and the Human Papilloma Virus (HPV), particularly HPV 16/18.
Age 40 or more – you are at greater risk than younger people, even if you do not use tobacco or alcohol or have any immune deficiency.
Please come for an annual oral cancer screening if you are at increased risk. All cancers are more successfully treated when they are diagnosed in early stages. Oral screening is the only way to reduce the death rate of oral cancer.
Please call 303-988-9060 or email Scott Greenhalgh, DDS, today to schedule an appointment. Our friendly staff is pleased to help patients in Lakewood and throughout the Denver area protect their oral health.