When a tooth is lost it needs to be replaced as soon as possible. This is not only for the cosmetic benefit of filling the gap, but also for your dental health. Many people have had a bridge done or dentures made, which are excellent as far as they go.
Dentures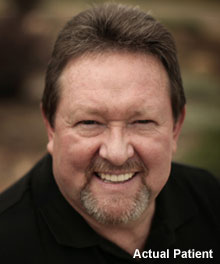 Dentures may fit well for a while but then need modifying or replacing as the mouth changes with aging:
They may be too loose and move when you want them to be stable
They must be removed and cleaned every night
In our experience, about 10 percent of people with dentures really function fine with them. The other 90 percent never really get comfortable with how they look, with the 75 percent reduction of natural chewing force, or with the slipping that ANY denture has. While some dentures fit fine at the start, over time the jaws shrink and get thinner and shorter, making it harder to wear them as the years go by.
Porcelain Bridges
Bridges can be secure and comfortable, but require trimming of the neighboring teeth to properly secure them. These teeth may have little or no dental work, but for the bridge they must be substantially modified.
Over time whatever happens to one of these anchor teeth affects ALL of the bridge
If you get a cavity on one tooth, the whole bridge of multiple teeth needs to be replaced
For optimal longevity, these bridges need good regular cleaning. But that can be laborious, taking extra time and requiring special brushes to go under the fake tooth
Removable Bridges
Also called partial dentures, these are the most common image people see when someone says "bridge". Many picture an uncle who had a lot of chrome or silver hooks showing when he smiled. If you have a partial denture:
It can frequently become uncomfortable because it moves with chewing
The pressure can cut the gums
It can make it easier to get cavities on the teeth that support it.
If it is not immaculately cared for, more cavities and the spiral of more teeth loss occurs.
Finally you are faced with the need to have ALL of the remaining teeth removed and a full denture made.
We have had MANY people tell us: "If I knew a denture was like this I would have worked harder to save my teeth!"
The Advantage of Dental Implants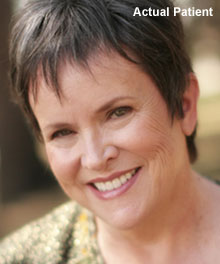 A missing tooth leaves not only the tooth gap, but also a root gap in the jawbone. Being invisible, it may not seem so important, but that is a fallacy. When that vacant space is left too long in the bone, the bone tissue resorbs (shrinks) to fill it up. That will change your jawline and facial shape, giving you an older and less healthy look. Dental implants replace the tooth root.
By replacing the tooth root, an implant takes any overload of forces away from the neighboring teeth and spreads it around evenly. Your teeth will feel and function better, as will your jaw joints.
Benefits of Dental Implants
Dental implants have been used for over 50 years, with a success rate of 95-98 percent in most situations. They deliver proven and predictable results and have the potential to be a truly cost-effective, lifelong replacement compared to bridges, dentures or partials.
You can learn more about dental implants from Dr. Greenhalgh and discuss them as a possible procedure for you. Please call 303-988-9060 or email our cosmetic dentistry office, and we will be happy to schedule a consultation. We serve the Denver and Lakewood, Colorado areas.