At Dr. Greenhalgh's dental office, we incorporate advances in dental technology with seasoned experience and good communication. With your comfort in mind, our rooms are equipped with a DVD player, satellite TV with over 200 channels, and Bose headphones – the gold standard in creating a quiet environment. You can visit the About Us page for more on comfortable amenities.
For Patient Participation
So that you can see your own dental problems clearly, we have a digital camera. Within seconds, Dr. Greenhalgh can show you any photos he has taken. We also have three simulation systems:
Computer Smile simulations – preview what your smile makeover could look like before you start
Smile Now – a 60 second instant veneer simulation
Bite simulator – the Denar® Mark II Articulator, which allows Dr. Greenhalgh to assess your bite function, determine some treatment options, and show you what is happening with your bite.
For Excellent Dental Work
Dr. Greenhalgh uses a Diolase Laser to create the best possible cosmetic results. You can read more on our Laser Dentistry page.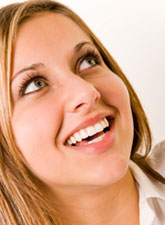 When working on your teeth, Dr. Greenhalgh likes to have a very clear view and to that end uses Orascoptic Dental Loupes. They are magnifying glasses. We believe most dental work doesn't last as long as it should because it wasn't cleaned out as well as it could have been. If you can't see it you can't clean it.
For that same reason we also use a caries detector stain – a dye that sticks to cavities and helps Dr. Greenhalgh verify that your teeth are free of decay.
When you come for your professional cleaning visit, we can give you a fluoride treatment using an advanced fluoride system to help strengthen tooth enamel.
As part of your regular check-ups, we use the Vizilite Oral Cancer Screening, which is 99.9% effective in identifying early oral cancer.
BioEden Stem Cell Collection
There are adult stem cells, which have been used so far in research, and embryonic stem cells, which are very controversial and have not so far been used. Stem cells are developmentally early cells from which more specialized cells are grown as the fetus develops. If safely preserved, they could later be used to grow these same specialized cells, such as heart cells, liver or blood cells, etc. This could enable tissue transplants which would not be rejected by the person's body because they're grown from the person's own stem cells.
There are many diseases which physicians are currently unable to cure, but which could possibly be cured in the future using stem cells. Some examples are:
Alzheimer's disease
Parkinson's disease
Multiple sclerosis
Juvenile diabetes
Disability arising from a spinal cord injury
Cancer including leukemia
Some types of heart disease
Now there is an easy and non-controversial way to obtain your child's own stem cells – from discarded baby teeth. They would need to be safely stored until the child needed them much later in life. BioEden is the first Tooth Cell Bank.
In 2007 Dr. Greenhalgh was part of an interview about this and you can read the article on the Denver Channel 7 News site.
You can learn from Dr. Greenhalgh's own stem cell article about how it works and what the cost is. This newspaper article gives further detail. Dr. Greenhalgh began working with stem cell collection in March 2007.
Dr. Greenhalgh uses only proven dental technology that will give you the best dental care possible. To learn more, please call 303-988-9060 or email our general and cosmetic dentistry office in Lakewood today. We will be happy to schedule a consultation for you.