Advantages of Dental Implants
Denver and Lakewood, Colorado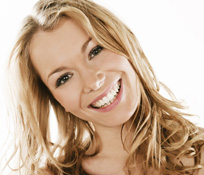 Dental implants are, hands down, the best solution for replacing a missing tooth. They are almost 100% successful when placed at the time a tooth is lost, and even people who have long been missing a tooth are very likely to get great results. The dental implant is almost as good as your natural tooth, requires no special care, and may last a lifetime.
Why Replace a Missing Tooth?
When you've lost a tooth, it's important to replace it. Your teeth work as a team, and when one is missing, all the others have to pick up the slack. If you've ever been shorthanded at work, you know that you can handle it for a little while, but over time everyone begins to feel the strain. It's the same for teeth: when one is lost the rest have to work harder, and over time this can lead to drifting, excessive wear, or breaking.
Why Choose Dental Implants
If you lose an employee at work, you want to bring in someone who is dependable, in it for the long haul, and can do all the same jobs as the person you lost. When it comes to a lost tooth, only a dental implant fits the bill. Dental implants:
Are almost 100% successful when placed immediately
Allow you to enjoy all the same foods
Require no special care
Support your gums
Stimulate your jawbone to prevent bone loss
Can be a lifetime replacement
All these advantages make a dental implant your tooth replacement of choice.
Learn more about The Dental Implant Difference.
To learn more about dental implants and how they can help you after a lost tooth, please contact Denver implant dentist, Dr. Scott Greenhalgh for an appointment today. Serving Denver, Lakewood and surrounding areas in Colorado.
Scott Greenhalgh
3190 South Wadsworth Blvd., Suite 300
Lakewood
,
Co
,
80227
Phone:

720-484-8832 or 800-757-6680

| Fax : 303-479-7599 | Contact Us
Office Hours:
Monday: closed
Tuesday: 11 a.m. - 6 p.m.
Wednesday: 7 a.m. - 1 p.m.
Thursday: 10 a.m. - 6 p.m.
Friday: 7 a.m. - 3 p.m.