Regular dental checkups and cleanings are an important part of your oral hygiene regimen, and they are crucial to your ability to maintain healthy teeth and gums long term. While the American Dental Association doesn't outline specific recommendations for how often you should visit the dentist, most individuals typically should schedule dental checkups twice a year. However, it's important to keep in mind that everyone is different, and the specific number of times you should come for a dental checkup and cleaning will depend on your unique oral health needs.
Dr. Greenhalgh will evaluate the health of your teeth and gums during each checkup to determine the appropriate frequency of your dental visits. The goal is to establish a schedule that is optimal for your ability to maintain proper levels of oral health.
Why Are Regular Dental Visits Important?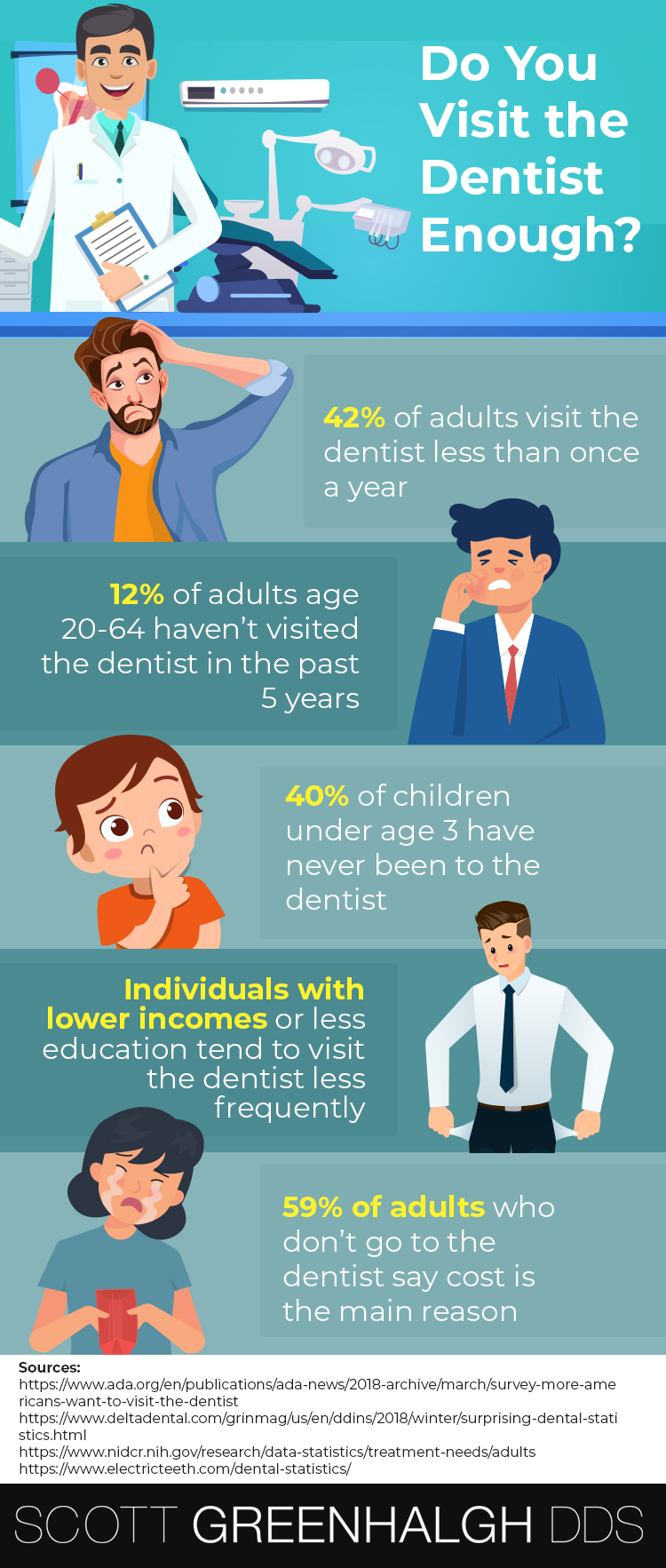 While daily brushing and flossing are essential to help minimize your risk of tooth decay and gum disease, these efforts only do so much. Invariably, some plaque and tartar will build up on your teeth. During these professional dental cleanings, Dr. Greenhalgh will remove the plaque and tartar that cannot be addressed by brushing and flossing. This can help prevent dental issues from developing in the first place.
In addition, these checkups give Dr. Greenhalgh an opportunity to evaluate the health of your teeth and gums. This allows him to identify problems in their earliest stages when they can be treated with the most conservative and affordable methods possible.
Factors that Impact the Frequency of Your Dental Visits
Twice a year is a good general guide for how often most people should visit the dentist. If you are in excellent oral health and consistently have no problems, Dr. Greenhalgh may determine that once a year is sufficient. Conversely, if you have a tendency to build up a significant amount of plaque and tartar, Dr. Greenhalgh may recommend coming for more frequent cleanings.
In addition, there are certain individuals who may be at higher risk of developing dental problems. If you fall into one of the following high-risk categories, you may need to visit the dentist more often than twice a year:
Smokers – Smoking increases your risk of tooth decay, gum disease and oral cancer
Pregnant women – Hormone changes during pregnancy can increase your risk of tooth decay, oral infection, tooth sensitivity and gum inflammation
Cancer patients – Chemotherapy can increase the likelihood of dry mouth, infection and jaw stiffness
Diabetics – Individuals with diabetes have an increased risk of fungal infections, gum disease and other oral health issues
When Should I Visit the Dentist between Checkups?
If you are undergoing dental work to treat a specific oral health problem, you may need to schedule additional follow-up appointments or more frequent checkups to monitor the success of your treatment. After getting a cavity filled or being fit for a dental crown, Dr. Greenhalgh will need to make sure the restoration is functioning properly.
In addition, you should schedule a dental appointment anytime you notice changes to your oral health, even if it's not time for your regularly scheduled checkup. This is especially true if you're experiencing pain, which is usually a sign that there may be a problem with your oral health. Make sure you call our office if you experience any of the following issues:
Chipped or cracked teeth
Swollen or bleeding gums
Chronic tooth or gum pain, especially if it continues to get worse
A sore in your mouth that isn't healing
Increased tooth sensitivity to hot or cold
Problems with an old dental restoration
Contact our Lakewood Dentist
Please contact Dr. Scott Greenhalgh using the form on this page or call 303-988-9060 today to schedule a dental checkup and cleaning. We serve patients in Lakewood, Denver and the surrounding areas of Colorado.