A bright, radiant smile can have a dramatic impact on your appearance, making you look younger and more attractive. Often, a beautiful smile can help you make a great first impression in social and professional interactions, and you may even experience a boost in self-confidence that will pay dividends in many aspects of your life.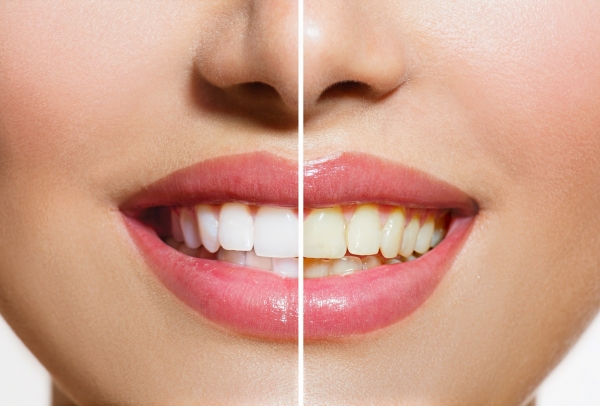 For many people, teeth whitening offers an easy and affordable way to improve the appearance of your smile. There are dozens of over-the-counter whitening options available to you, and they come in a variety of modalities including toothpastes, rinses and whitening strips. While it may be tempting to pick up one of these treatments at your local drug store, the reality is that you will receive a far inferior product compared with the professional-grade teeth whitening systems used by your dentist.
Benefits of Choosing Professional-Grade Teeth Whitening
There are many reasons why you should have your dentist administer your teeth whitening treatment. These professional-grade options offer the following benefits compared to the over-the-counter products found at the drug store:
Stronger whitening agent – Just as prescription medications dispensed by your doctor are stronger and more effective than over-the-counter alternatives, the whitening systems used by dentists are much more effective than the products you can buy in a store. The primary reason for this is that professional-grade whitening systems use much stronger bleaching gels and whitening agents than over-the-counter products. This allows you to achieve much brighter results in significantly less time. Often, you can brighten your smile 8-10 shades in one office visit.
 
Customized treatment – Over-the-counter whitening products use generic one-size-fits-all trays to deliver the whitening gel. The problem with this is that no two people have the same contours to their teeth and gums. Therefore, the use of generic trays often results in an uneven application of the whitening gel. Professional-grade whitening systems use trays that are custom-molded to the contours of your mouth. This ensures results that are significantly more consistent across all of your teeth.
 
Reduced sensitivity – Another benefit of using custom trays is that the whitening gel only comes into contact with your teeth. Often, the generic trays used by over-the-counter products will result in your gum tissue being exposed to the whitening agent, which can lead to increased sensitivity. This is an even greater concern for people who normally have sensitive teeth and gums.
 
Professional supervision – Dr. Greenhalgh personally performs all in-office whitening treatments. If you choose one of our take-home kits, he will still supervise the process. This ensures that your whitening treatment is administered properly, resulting in the best possible outcome. This is especially important if you have other dental restorations such as crowns or veneers which do not respond to whitening treatments. When you use an over-the-counter product, you won't be able to benefit from the experience of a dental professional who has performed this procedure thousands of times.
In addition, there are some instances where teeth whitening may not be the most effective way to achieve your desired results. While this procedure is very effective at brightening teeth tarnished by extrinsic stains, it often isn't effective in situations where you have intrinsic teeth stains or chemically stained teeth. In these instances, an alternative such as porcelain veneers may be required to achieve the best possible results. Dr. Greenhalgh has almost three decades of experience performing cosmetic dentistry treatments, and he will be able to recommend the ideal solution for your unique needs and goals.
While over-the-counter options provide a more affordable solution, you will find that you get what you pay for. Your teeth whitening treatment is an investment in your smile, and spending the extra money to ensure the procedure is done properly is worthwhile in the long run.
Teeth Whitening Options We Offer
Dr. Greenhalgh offers several teeth whitening options in order to provide you with highly customized results that address your unique needs. Depending on your goals and the extensiveness of your stains, he may recommend:
Zoom!2™ Whitening
Deep Bleaching™
NiteWhite take-home whitening kits
In some instances, Dr. Greenhalgh may recommend an in-office treatment followed by an at-home touch-up for best results.
Contact our Lakewood Cosmetic Dentist
Please contact Dr. Scott Greenhalgh using the form on this page or call 303-988-9060 today to schedule a teeth whitening consultation. We serve patients in Lakewood, Denver and the surrounding areas of Colorado.