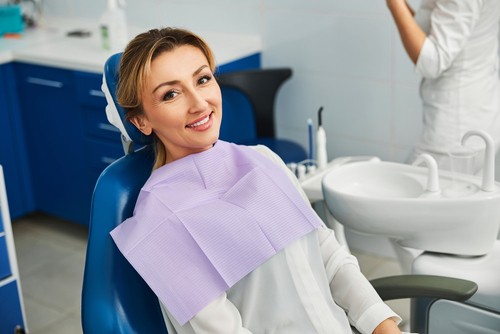 Do you remember when you smirked with your mouth closed during a group photo instead of smiling? You're not alone. Fortunately, there are many ways to fix this. Many of our patients have felt better about their smiles after receiving personalized care plans from our dentist Scott Greenhalgh. 
What's Smile Anxiety?
People with smile anxiety worry that their teeth are not white enough, that their smile is not symmetrical, or that they will appear nervous if they smile. This social anxiety can lead to people avoiding smiling altogether, harming their self-esteem and quality of life.
The following are a few common causes and some ways to improve the condition of smile anxiety for those who suffer from it.
Smile Anxiety Causes
Bad Breath
An individual with bad breath may stand away from a group of friends or co-workers and mumble their words. Medications, dehydration, or poor oral hygiene can sometimes cause bad breath. You're in luck if you suffer from bad breath. Once the cause is determined, it's usually easy to fix.
Tooth Discoloration
Are you afraid to smile in photos because your teeth are yellow, dark, or stained? We offer in-chair teeth whitening services to help our patients achieve a whiter smile in just one or a few office visits.
A Missing Tooth
One or more missing teeth can cause some people to hide their smiles, especially if they are missing one or more of their front teeth. There are a few different treatment options available to revitalize missing teeth. The best option for you may be an implant or a dental bridge, depending on the unique circumstances of your case.
Crooked Teeth
Throughout your life, your teeth's alignment can change. Your smile can sometimes be twisted and turned even if you have had braces at one time. With Scott Greenhalgh on your side, you will be able to achieve the smile of your dreams!
Is it Time for a Smile Makeover?
We are here to help you reveal a stunning smile with the help of Scott Greenhalgh. Find out more about our dental office's custom treatment plans by contacting us today at (720) 484-8832.