Dental bonding is a quick, affordable treatment that will correct a wide range of minor aesthetic problems with your teeth. As with any cosmetic dentistry procedure, it's important to consider the advantages and drawbacks before deciding whether to move forward with treatment. During your appointment, Dr. Greenhalgh will discuss these in detail so that you can make a fully informed decision regarding his treatment recommendations.
Benefits of Teeth Bonding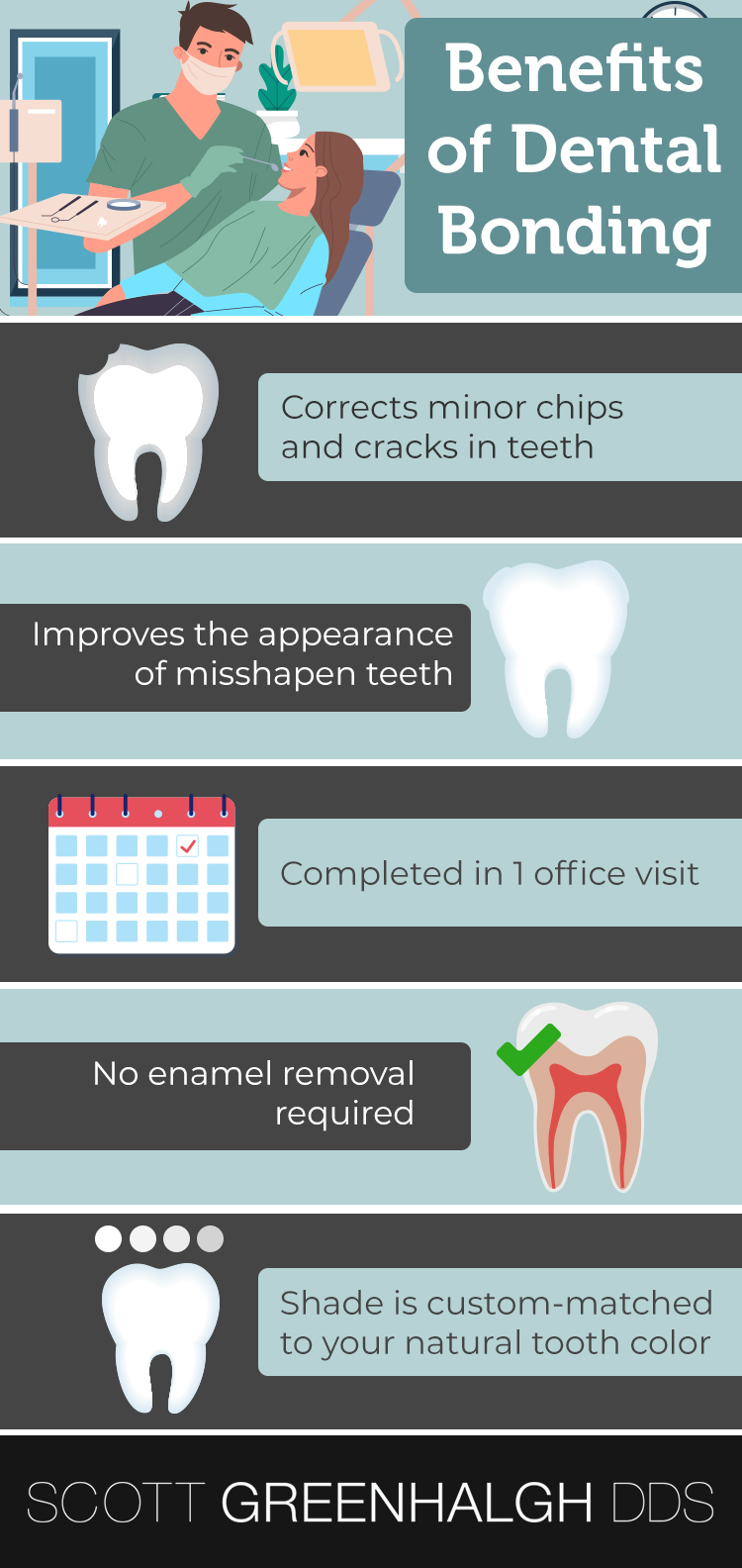 You'll experience a variety of benefits from teeth bonding, including:
Quick, painless procedure
Beautiful, natural looking results
No tooth enamel is removed during the procedure
Versatile treatment option
Can be completed in one office visit
More affordable than alternatives such as porcelain veneers
Dr. Greenhalgh often recommends dental bonding to address the following issues:
Minor chips or cracks in teeth
Uneven teeth
Irregularly shaped teeth
Gaps between teeth
Short teeth
Many people prefer teeth bonding over porcelain veneers because the procedure doesn't require any alteration to your natural tooth structure. In addition, dental bonding requires fewer office visits than veneers.
Drawbacks of Dental Bonding
While dental bonding is a very effective treatment in the right situations, it may not be the ideal choice under all circumstances. In general, other solutions may provide better results for the following:
Tooth discoloration – While the bonding material is stain-resistant, it won't hold up to discoloration as well as porcelain veneers over a long period of time.
 
Strength – Teeth bonding will provide excellent results when treating teeth that don't exert significant bite pressure. However, you may benefit from a different solution if you need to address a tooth that must withstand heavy bite forces.
 
Durability – While your dental bonding treatment can last up to 10 years with proper care, options such as porcelain veneers often deliver longer lasting results.
 
Protection – Dental bonding primarily delivers cosmetic benefits. It doesn't protect your tooth from future damage. In some situations, dental crowns may provide a more comprehensive solution because it will deliver your desired cosmetic outcome while protecting your tooth from additional damage and decay.
 
Extensive damage – Bonding is most effective when treating minor issues. If your teeth have experienced more extensive damage, a different treatment will most likely be necessary.
Contact our Lakewood Cosmetic Dentist
Please contact Scott Greenhalgh using the form on this page or call 303-988-9060 to schedule an appointment. We serve patients in Lakewood, Denver and the surrounding areas of Colorado.